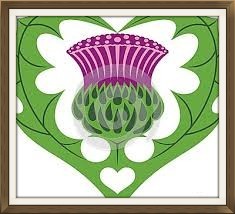 This page is like a Scottish Ceilidh party: A little of this, a little of that -- and a whole lot of fun!
Please e-mail your favorite Scottish-theme web links to kc135a@sbcglobal.net for posting here.
Red Thistle Scottish Country Dancers of Palo Alto web page: It has numerous web links of local Scottish food and entertainment, kilt and tartan wear suggestions, online Scottish kids' games, ancestry research tips and more. Click here to view.
Our Home Band: The Dixon Scottish Cultural Association is proud to sponsor the Dunvegan Pipe Band as its "home band." Learn more about these award-winning bagpipers and drummers, by clicking the Scottish band's:
Rampant Scotland: This web site has more than 20,000 web links (yes, twenty thousand!) to Scottish information online resources. Click here to view.
Living history societies:
Period Events and Entertaiments Re-creation Society: Formal period-costume dances in Alameda. Often, formal Scottish kilt attire may be worn at these events. Click here for web site.