Cead mile failte! The Dixon Scottish Cultural Association (DSCA) is a non-profit, 501-c-3 organization dedicated to promoting the History, Culture, Entertainment, Education
and Beauty of Scotland.
Membership is open to EVERYONE who enjoys celebrating "all things Scottish."
Alex Henderson
Co-founder
Dixon Scottish Cultural Association
Chieftain Deanna Lopes
sharkgrrl10@yahoo.com
P.O. Box 561, Dixon, CA. 95620
DSCA Proud Supporter Of
American Friends Of Erskine
Monthly DSCA meetings: Third Wednesday of each month at the American Legion Hall, 1305 North First Street, Dixon. Our Scottish games committee meetings starting at 6 p.m. have been postponed until further notice. General membership meetings begin at 7 p.m. (year-round.)
All are welcome to attend!

Meeting Schedules for 2020

March 18th, April 22nd, May 20th,
June 17th, July 15th, August 19th,
September 16th,
Dixon Scottish Games & Gathering September 26th.
October 21st, November 18th, December Christmas Party 16th.
Other upcoming Dixon Scottish Cultural Association activities:
For details on all Dixon Scottish club social events, please contact Vice Chief Sandy Scott at (707) 678-3315 or scotto1020@aol.com.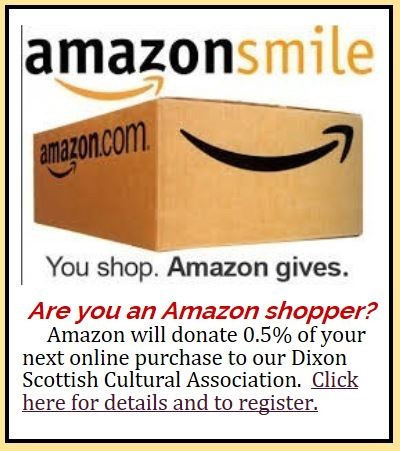 Big things are afoot with the Dixon Scottish Cultural Association with this update.
Chieftain Deanna Lopes has sent out a mass e-mail reference to the future of our club and our games. All members are needed to respond to this e-mail for a general consensus on her thoughts.
If you did not receive this e-mail you will find it on the newsletter section of this web page.